Child Observation Reflection Essay On Community
Recent reports have suggested that young childrens' attendance in classroom-based preschool programs has dramatically increased, with nearly 1.1 million children attending public preschool programs during the 2007–2008 school year (Noel, Sable, & Chen, 2009). Preschool is viewed as an important way to prepare young children for elementary school (Reynolds, Temple, Robertson, & Mann, 2001). Previous research has emphasized the importance of children's early competencies for later school success, including social relationships, self-regulation (e.g., attention) during interactions with materials, and language development (e.g., Blair, 2002; Burchinal, Peisner-Feinberg, Pianta, & Howes, 2002; Duncanet al., 2007; Hamre & Pianta, 2001; Ladd, 2005; Wasik, Bond, & Hindman, 2006). It is now well-established that these important early childhood skills and abilities develop within interactions between the child and context (Ladd, 2005; Pianta & Walsh, 1996), including interactions with adults, peers, and learning activities/materials within early education classrooms (Downer, Booren, Lima, Luckner, & Pianta, 2010). Young children learn through a wide range of interactions across the school day, and their competence or adjustment is best indicated by the nature and quality of these interactions, underscoring this as an important indicator childrens' readiness or ability to successfully transition to school environments (Lara-Cinisomo, Fuligni, Ritchie, Howes, & Karoly, 2008; Rimm-Kaufman & Pianta, 2000). One component of children's classroom experiences that is not well understood is the extent to which activity settings (e.g., large group, free choice, meals, etc.) may support or constrain certain patterns of interactions. It is important to understand the connection between activity settings and children's interactions to shed light on the classroom as a context for learning opportunities.
The link between the classroom context and specific children's behavior is complex (Carta & Greenwood, 1985; Gump, 1967; Kontos & Keyes, 1999; Pianta, La Paro, Payne, Cox, & Bradley, 2002; Rimm-Kaufman, La Paro, Downer, & Pianta, 2005; Rimm-Kaufman & Pianta, 2000), in part because it is not always unidirectional. Early learning occurs within dynamic contexts that are interconnected and mutually dependent (Rimm-Kaufman & Pianta, 2000; Shonkoff & Phillips, 2000), and through social processes that include resources and people (Cohen, Raudenbush, & Loewenberg-Ball, 2003; Tseng & Seidman, 2007). In other words, children's behaviors are contextually-bound, and may be better understood by considering the educational contexts in which they occur. The organization of activity settings (e.g., large group, free choice, meals, etc.) is largely a classroom feature that teachers use intentionally to structure children's time throughout the preschool day, and can play a major role in how children practice skills, develop, and successfully transition into elementary school (Piantaet al., 2005; Shonkoff & Phillips, 2000). Previous research suggests that children who have difficulty engaging in structured classroom tasks and interacting with their peers have later social difficulties and poorer achievement scores (Bulotsky-Shearer, Fantuzzo, & McDermott, 2008). Furthermore, children's experiences in certain classroom activities have been linked to academic performance and behavior several years later (Montie, Xiang, & Schweinhart, 2006).
In preschool, classroom activity settings are an important aspect of the learning environment for young children. Together, these findings emphasize the importance of examining the structure (i.e., organization of activity settings) of early childhood classrooms and underscore the need to understand the situational demands of the environment in relation to children's interactions. The purpose of the current study is to take a naturalistic view of the classroom in order to provide detailed information about children's interactions in activity settings, which teachers could then use to be thoughtful and intentional about what types of support and opportunities to provide that can meet the individual needs of children across the array of classroom contexts. The current study examines the extent to which children's preschool classroom interactions with teachers, peers, and tasks vary across activity settings (i.e., large group, free choice, meals, etc.) and whether patterns of variation differ based on child gender and basic teacher behavior.
Eco-behavioral Approach to Understanding Classroom Interactions
For decades, researchers have acknowledged the role of the environment in children's development in terms of nested systems, suggesting that understanding children's capacity to engage directly with activities, both with and without regulation by teachers, is fundamental to education (Bronfenbrenner, 1979; Gump, 1967). Towards this, the eco-behavioral approach involves a careful study of the co-occurrence of behaviors and contextual factors that are essential when assessing children's readiness or ability to successfully transition to school environments (Carta & Greenwood, 1985). Children's developmental contexts are embedded in a hierarchy of proximal relationships, such as with peers and teachers, that are nested within larger systems like the classroom and school (Bronfenbrenner, 1979). To illustrate this point, refer to Figure 1, where the focus is how a child interacts with teachers, peers, and tasks within activity settings in an early childhood classroom. It is through interactions, embedded within proximal (e.g., activity settings) and more distal systems (e.g., preschool classroom), that development occurs over time (Bronfenbrenner & Morris, 2006; Carta & Greenwood, 1985).
Figure 1
A model of children's interactions with teachers, peers, and tasks embedded in activity settings within preschool classrooms.
Related to the eco-behavioral approach, Gump (1975) described children's physical environments as having both a physical milieu and a program, suggesting that most contexts have an agenda or regime that influences or affects children's behavior. The milieu represents the area or facility (circumjacent to the behavior), whereas the program is a procedure or way of doing things (Barker, 1968; Gump, 1975). Using an eco-behavioral approach allows researchers to identify properties in the environment, such as the milieu and program, which are associated with variations in children's behavior. The current study, as illustrated by Figure 1, examined classroom activity settings in a way that captured both the milieu and the program of early education classrooms. For example, large group activity settings were defined both by the number of children involved (greater than 6) and by the fact that the children were expected to engage together in a shared activity organized by the teacher, such as listening to a story or singing a song. Utilizing this ecological approach provided an opportunity to learn more about the role of proximal classroom contexts in children's patterns of interactions.
Importance of Children's Observed Classroom Interactions
Research suggests children's interactions with teachers, peers, and tasks are critical to their academic and social outcomes (Buhs, Ladd, & Herald, 2006; Downer et al., 2010; O'Connor & McCartney, 2007; Ponitz, Rimm-Kaufman, Grimm, & Curby, 2009). Young children's relationships with teachers and peers significantly predict school success: children who have warm, positive relationships tend to have higher achievement, lower levels of internalizing behavior, and higher social competence than children whose relationships are characterized by conflict (Bierman, Torres, Domitrovich, Welsh, & Gest, 2009; Konold & Pianta, 2005; O'Connor & McCartney, 2007; Palermo, Hanish, Martin, Fabes, & Reiser, 2007; Pianta, Nimetz, & Bennet, 1997; Pianta & Stuhlman, 2004). Research has also found that preschool children who are persistent, attentive, and self-reliant during learning tasks tend to have higher academic achievement than other peers (Fantuzzo, Perry, & McDermott, 2004; McClelland, Morrison, & Holmes, 2000). Clearly, children's interactions with teachers, peers, and tasks in early childhood are key precursors of later academic and social success, and in previous research these interactions have only been linked across a select few classroom activity settings. Research is needed that provides a comprehensive and detailed set of behavioral descriptors across classroom interactions that map onto or co-vary with the classroom activity settings' milieu and program. In doing so, it may be possible to link observable behavior during interactions with properties of classroom environments that support or inhibit development.
One way of assessing child behaviors and the classroom environment is through observations. Many researchers agree that naturalistic observations provide an ecologically valid approach to assessing children's behavior (American Educational Research Association [AERA], 1999; Kontos & Keyes, 1999; Meisels & Atkins-Burnett, 2006; Neisworth & Bagnato, 2004). Observational approaches, which focus on children's responses to situational demands, allow researchers to examine how children calibrate their behavior in classroom interactions overtime (Volpe, DiPerna, Hintze, & Shapiro, 2005), rather than defining competence in terms of the presence or absence of a specific, isolated behavior. The current study therefore investigates the classroom context by observing children's interactions with teachers, peers and tasks during multiple cycles across the school day and capturing information about the classroom activity settings that may vary from moment to moment. This represents a child-centered approach that considers both teacher and child behaviors in the classroom context and allows for children's behavior to be observed across multiple settings throughout the day.
Classroom Interactions across Activity Settings
Early research suggests that children's behavior varies depending on classroom activity setting (Gump, 1967). Recent studies have examined the amount of time children spend in activities settings, suggesting that most of the preschool day is spent in free choice, teacher-assigned activities and meals/routines (Early et al., 2010). For the purposes of the current study, children's interactions with teachers, peers, and tasks across activity settings will be investigated, as well as the role of basic teacher behavior (i.e., presence and direction) and child gender.
Patterns of classroom interactions
Some observational work has been done to determine the ways in which children's interactions with teachers, peers, and tasks vary systematically from one setting to the next. For example, it appears that children interact most frequently with teachers during whole-group, teacher-structured time (Pianta et al., 2005). For peer interactions, children spend a significantly greater proportion of time in social interaction during play activities (e.g., play with toys or pretend play) than any other activities (Odom & Peterson, 1990). Similarly, Innocenti and colleagues (1986) reported that peer interaction occurred more frequently in free play than in other, more teacher-directed activities. For task related behaviors, children were more likely to be engaged in a task with individually targeted interactions than in more group-oriented settings (McWilliam, Scarborough, & Kim, 2003), and similarly off-task behavior was reduced when in whole-class teacher-directed settings (Rimm-Kaufman et al., 2005). Other research suggests that children have more complex interactions with objects during activities that present more of a cognitive demand on the child, such as engaging in goal-directed problem-solving or systematic experimentation during free choice settings (Kontos, Burchinal, Howes, Wisseh, & Galinsky, 2002; Kontos & Keyes, 1999).
Basic teacher behavior
The literature clearly points to a set of complex teacher behaviors that contribute to student learning (Hamre & Pianta, 2001; Pianta et al., 2005; Pianta & Stuhlman, 2004), but there is also evidence that simple, basic actions by the teacher can support or inhibit children's experiences across activity settings. For example, Tomes (1995) found that dramatic play areas, such as those commonly set up during free choice or center time, are not enhanced by teacher presence; whereas other areas, like the library during a structured time, were significantly enhanced by the teacher presence. Other research has also examined teacher behaviors as they initiate or direct interactions across contexts in free choice settings, suggesting that some teacher behaviors may influence children's interactions (Harper & McCluskey, 2003). The current study isolates two basic teacher behaviors, and examines the extent to which a teacher's presence (or availability), as well as the degree to which they direct an activity, contribute to variation in a child's experience with different activity settings.
Gender differences
Research suggests that preschool children in the same classroom may have very different experiences, based in part on characteristics of the children themselves (Dobbs & Arnold, 2009). In particular, children's gender may be related to their classroom interactions across activity settings. Howe and McWilliam (2001) examined peer arguments across various activity contexts and found that boys consistently displayed more dominance in arguments, except during dynamic play (a free choice setting). Other research has examined more positive behaviors with peers, suggesting that boys and girls tend to act similar within various classroom settings (Anderson, Hilton, & Wouden-Miller, 2003; Carpenter & Huston-Stein, 1980; Farran & Son-Yarbrough, 2001), and taking a slightly different view, portions of time spent in settings rarely differ by gender (Early et al., 2010).
Study Aims
The goal of the current study was to examine a complete picture of young children's interactions in the classroom (with teachers, peers, and tasks) and the degree to which children experience more positive interactions across certain activity settings (such as large group, free choice, meals, etc.). The aim was to observe children's behaviors during the settings in which they occurred, in order to provide descriptions of contextual factors alongside ratings of behavior (Carta & Greenwood, 1985). This approach focuses on the likelihood of children's behaviors co-occurring with environmental conditions or factors, providing a more detailed picture of what happens in preschool classrooms. The current study provides a novel observational approach and design that allows for multiple observations on each child in order to examine patterns of behaviors across and within classroom activity settings, and how these relate to the child's gender and basic teacher behaviors. This study had three specific objectives: 1) to document the distribution of children's time and basic teacher behaviors (i.e., presence and direction) across activity settings; 2) to identify patterns in children's interactions with teachers, peers, and tasks across classroom activity settings; and 3) to determine whether patterns of children's interactions within classroom activity settings varied by gender.
Method
Participants
The sample consisted of 164 children from the central region of a mid-Atlantic state (see Table 1 for child, teacher, and classroom characteristics). Complete data were available for 145 children (19 were absent for one of the classroom visits), and it is these 82 girls and 63 boys who were included in the current analyses. Fifty-five of the participating children were three years old at the time of data collection, 73 were four, and 16 were five(one missing date of birth). The majority of children were White(91%), with the second largest group being African American (5%). The sample of participating children was similar in family (i.e., maternal education, family income, race/ethnicity) and classroom (i.e., teacher age, teacher education) demographic characteristics to the children who were excluded from analyses due to incomplete observation data, except that participating children tended to be in smaller classrooms than excluded children (t[163] = 3.10, p ≤.01).
Table 1
Teacher, Classroom, and Child Demographics
As a whole, the 44 classrooms were slightly more ethnically diverse, as reported by the teachers, than the sample of participating children. Most of the classrooms (64%) reported no children with limited English proficiency (LEP), and 84% of classrooms had no children with known individualized education plans(IEP). Forty lead teachers participated (some teachers led more than one participating classroom, since some classes met on alternate days). All teachers were female, with 95% white. Twenty-three percent of teachers reported a bachelor's degree as their highest level of education, and 28% had majored in early childhood education. Additional teacher demographics are also reported in Table 1.
Procedures
Recruitment
After permission was granted by the principal/director, lead teachers at each preschool were invited to participate. All parents or guardians in each participating classroom were given an informational consent letter and short family demographic survey to return to their child's preschool teacher. Of the parental consents received, four children were randomly selected from each classroom for full study participation: two girls and two boys, whenever possible. The response rate from parents was 44% for a total of 291 children consented. Teachers were offered a choice of either a monetary stipend or a new video camera in compensation for their participation: allowing access to their classroom for observations, completing multiple teacher rating forms, and assisting with the parental consent process.
Training
All inCLASS observers (2 research scientists, 4 graduate students, and 1 undergraduate student) were required to attend an intensive training session and reliably code video training clips before observing live in the field. During training, observers watched five training clips (10 min. each), which they coded using a manual and discussed extensively. At the end of training, all observers were required to code five reliability clips independently (without discussion), and had to score within 1 point of the mastercode on 80% of their scores to be deemed reliable and ready for live data collection. All training and reliability video clips were mastercoded by a group of researchers, educators, and designers of the observation system. Inter-rater reliability was calculated using results from these initial clips, and as a team, the coders were within one point of the mastercode 85% of the time (a range of 74 to 92% across the 9 dimensions). In addition, the intraclass correlation was .65, considered a good level for observational assessments (Cichetti & Sparrow, 1981).
Observation protocol
Two observational visits were made to each classroom in a 3–4 month period during the fall (typically one week apart, and not more than two weeks). Observations were scheduled at the teachers' discretion and lasted for an entire morning. During each visit, observers watched each of the participating children in turn, in a series of alternating 15-minute cycles or occasions (10-minute observation, 5-minute coding), for an average of 16 observations (four per child). Observations continued throughout all activity settings: at each cycle, observers recorded relevant setting information, such as the type of activity (e.g., large group, free choice, etc.), number of adults and children present in the room, and two teacher behavior variables. The same children were observed during the first and second visits for a total of 4–9 cycles.
Measures
The Individualized Classroom Assessment Scoring System(inCLASS) is an observational system comprised of nine dimensions: Positive Engagement with the Teacher, Teacher Communication, Teacher Conflict, Peer Sociability, Peer Assertiveness, Peer Communication, Peer Conflict, Engagement within Tasks, and Self-Reliance (Downer et al., 2010). The dimensions were organized into four developmental domains, as reported by Downer et al. (2010): Teacher Interactions (α = .80), Peer Interactions (α = .92), Task Orientation (α = .72), and Conflict Interactions (α = .71). Each child receives a global score on a 7-pt. scale (where 1–2 is low, 3–5 is mid, and 6–7 is high) for each dimension based on the observation of specific behavioral markers, which are developmentally graded. This scoring procedure is unique in that it allows for the frequent of behavior to be examined within the naturalistic setting, but also for developmentally graded scores to be assigned across multiple observations in a morning. Observers use the inCLASS manual to compare the behavioral descriptors to their own observation notes to determine a score in each dimension. Inter-rater reliability was calculated across 20% of all live observations, as two coders observed and independently rated the same children. Coders were within one point of each others' scores 87% of the time (with a range of 71–99% across the 9 dimensions). An intraclass correlation was also calculated across all dimensions and reached .84, within the excellent range according to standards in the field (Cicchetti & Sparrow, 1981).
Observers also used checklists to record ecological factors that co-occurred with inCLASS ratings, and two main lists were used in the current study. First, coders rated two dichotomous basic teacher behavior codes to indicate whether an adult was present and whether an adult was directing the activity for a majority of the observation. These variables provide valuable information about the teachers' basic role, involvement, and behavior that are often times separate from classroom activity settings. Second, coders also rated all activity setting s during each observation cycle, and indicated the primary setting: large group, small group, individual time, free choice, recess, meals, and routines/transitions. The classroom activity setting definitions presented in Table 2 were adapted from Ritchie and colleagues (2001) Snapshot measure and have been used in other studies, specifically the NCEDL's Multi-State Pre-Kindergarten Study (Pianta et al., 2005). All activities were assigned a code based on these definitions, and two codes were combined based on low frequencies (e.g., small group and individual time). Settings codes were developed based on the structure of the classroom and demands placed on the child, and are less about the instructional content of the activity. However, two setting codes imply both a structure and content; meals typically involve eating and routines/transitions typically involve some sort of classroom clean-up. The remaining four codes (i.e., large group, small group, free choice, and recess) have a dominant goal that encompasses instruction, learning, and play, but can be inclusive of a variety of content, such as drawing, book reading, or dramatic play. Refer to Table 3 for percent of cycles or occasions, which generally match the frequency of activity settings in other studies (Early et al., 2010; Powell, Burchinal, File, & Kontos, 2008). It should be noted that the activity codes reflect the setting to which the target child was exposed and that the totals do not reflect settings that other children in the classroom were engaged in during the observation.
Table 2
Activity Setting Definitions
Table 3
Percentages of Observations and Teacher Behavior across Activity Settings
Results
To preserve the co-occurrence of child behavior and setting information, the data remained at the cycle level for each child, and were not collapsed within child or across observations. A total of 1,001 observations for the 145 children were used.
Teachers' Behavior and Distribution across Activity Settings
To investigate the first research goal, frequencies were run to examine the distribution of children's time and basic teacher behavior (i.e., present or directive) across classroom activity settings, and are presented in Table 3. In most observations, children were involved in free choice (32%) or in large group settings (26%). The difference in activity setting for teacher presence was significant, χ2(5, N = 972) = 421.53, p ≤0.001, and for teacher directed, χ2(5, N = 973) = 527.80, p ≤0.001. Teachers were present and directed a majority of the large group settings, whereas during free choice and recess teachers were mostly present but rarely directed the activity. To further explore the variability in scores across the classroom activities, mean scores and standard deviations for the inCLASS dimensions are presented in Table 4. Conflict tended to occur infrequently, whereas other dimensions displayed more normal distributions.
Table 4
Mean (and Standard Deviation) Patterns for Teacher, Peer, Task-Oriented, and Conflictual Interactions across Activity Settings
Children's Interactions across Activity Settings
To investigate the second research aim, a MANOVA was conducted to examine the patterns of children's interactions for each of the nine inCLASS dimensions across classroom activity settings. A multivariate effect for activity setting was significant, F(45,4409) = 7.72, p ≤ .001. All follow-up univariate ANOVAs for each of the inCLASS dimensions were also significant and are presented in Table 4 with post-hoc mean differences and the eta-squared. Results are organized by inCLASS domain (see Downer et al., 2010), but are presented for each dimension so that a complete portrait of children's behaviors can be examined.
The univariate post-hoc differences revealed that children received the highest ratings of positive teacher interactions during teacher-organized or -directed activities (e.g., large group, small group) as compared to settings such as free choice and recess. Following a different trend, children were observed in more positive peer interactions during more child-focused activities as compared with large group. For task orientation, post-hoc tests indicated that children's self-reliant behavior was significantly lower during large group (M = 3.65) than in all other settings except routines/transitions (p's ≤ .01). For conflict, on average, children engaged in more conflictual interactions with peers during free choice (M = 1.44, p ≤.001), recess (M = 1.63, p ≤ .001), and routine/transitional periods (M = 1.44, p ≤ .01), than in settings that were more teacher-directed like large group (M = 1.14).
Gender Differences within Activity Settings
Previous analyses have been across classroom activity settings, whereas for the gender aim an examination within settings was completed. To investigate the third research goal, a series of MANOVAs were conducted to examine gender differences by inCLASS dimension within each activity setting. Results are presented in Table 5 and revealed a multivariate effect for small group and meals. Follow-up univariate ANOVAs for small group revealed significant differences in girls and boys behavior for Positive Engagement (p ≤ .01), Peer Communication (p ≤ .05), and Peer Conflict (p ≤ .001) in small group, whereas for meals the only difference was for the Peer Conflict dimension (p ≤ .01). For these settings, girls were rated as having more positive engagement with teachers and higher peer communication, whereas boys were consistently higher in conflict than girls.
Table 5
Mean Patterns by Gender for Teacher, Peer, Task-Oriented, and Conflictual Interactions within Activity Settings
Discussion
The purpose of this study was to describe how activity settings relate to children's interactions with teachers, peers, and tasks in a preschool classroom, and to explore whether teacher behavior and child gender play a role in the pattern of these associations. Shifts in activity setting from occasion to occasion allowed for co-occurrences of activity settings, children's interactions, and basic teacher behavior to be documented. Observations of children's interactions and basic teacher behaviors varied across settings, and some limited gender differences were observed in small group and meals. Observed behaviors revealed some intuitive patterns, such as teachers being involved in directing activities like large group and routines/transitions; however there were other interesting patterns, as well. For example, teachers were present for a majority of the time in both large group and recess settings, but children's interactions with teachers were less positive in more child-directed activities such as recess compared to large group. The implications of these findings might encourage teachers to be thoughtful and intentional about what types of support and resources to provide for children so that they can successfully navigate the demands of each setting. These findings are not meant to discourage certain teacher behaviors or imply value of one classroom setting over any other, but instead provide evidenced-based information about patterns of interactions in preschool classrooms that teachers can use to be intentional when providing learning opportunities for children. Specific patterns across and within the inCLASS domains of interactions, including a focus on the role of teacher involvement and child gender, are discussed below.
Patterns of Teacher Behavior across Activity Settings
Two basic teacher behaviors, physical presence and active direction, play well-established roles in preschool classrooms (Harper & McCluskey, 2003; Kontos, 1999; Kontos & Wilcox-Herzog, 1997; Tomes, 1995), and the current study extended past work by exploring patterns of these teacher behaviors across common activity settings. During large group settings, teachers were present and directing the activity the majority of the time, whereas during free choice and recess, teachers were mostly present but rarely directed the activity. Though on the surface this pattern seems intuitive, when interpreted in light of other research on classroom processes these findings hold implications for what teachers do to support children's learning. First, past research indicates that providing children with opportunities to be autonomous and a leader is linked to early learning (Gutman & Sulzby, 2000; Pianta et al., 2002). With this in mind, current findings suggest that teachers consider ways to integrate more child-directed opportunities into typically teacher-directed contexts, such as large group work. Second, the fact that teachers are largely present, but non-directive, during center time and free play begs the question – what are teachers doing within these settings? A constructivist approach to early childhood education, and related recent findings (Mashburn et al., 2008), indicate how influential an adult can be during free play through active scaffolding and feedback loops, rather than remaining in a passive, silent standby role. Other observational work in preschool classrooms has established that this type of an active role in children's learning is rare (Cliffordet al., 2005; Pianta et al., 2005), perhaps due to teacher pedagogies that value children's independent play or consider a teacher's role in learning to be constrained to more formal, teacher-directed moments. Yet, current findings indicate that teachers are clearly present and physically available in these free play/center time moments; it may be that some teachers just need additional education, professional development, and support to maximize their input during these child-directed learning opportunities (Pianta, Mashburn, Downer, Hamre, & Justice, 2008). Understanding these subtle differences in the setting may help teachers be more intentional in their actions to help facilitate positive, meaningful interactions.
Patterns in Children's Interactions across Activity Settings
This paper had an exploratory goal of examining the unique patterns of children's interactions across classroom settings. Many of the findings fall in line with previous research but the distinctiveness of these results lies largely in the ability to simultaneously look across all children's classroom interactions in all common settings via a unique observational method. These findings are not intended to be a prescription for classroom behavior, but instead an acknowledgement that classroom settings provide opportunities for certain behaviors and towards this, practice and research can be more reflective and purposeful.
Teacher interactions
In the current study, children's positive interactions with the teacher were observed for engagement and communication across settings. Following past trends (Coplan & Prakash, 2003; Konig, 2009), the current findings suggest that children exhibit less positive interactions with the teacher when in child-directed activities, such as recess, as compared with teacher-structured activities like large group. Although it is not a requirement for the teacher to be present or lead during activities like large and small group, it is often the case that the teacher takes on this role; whereas in free play or recess teachers may be less available (Innocenti et al., 1986) or children may have fewer opportunities to engage in conversation with teachers (Dickinson, 2001; Smith & Dickinson, 1994). Current findings suggest that teachers were present a majority of the time during the more child-directed activities, such as free choice and recess, but despite this accessibility children tended to be less positively engaged or communicative with the teacher. It is possible that the teacher may be in the vicinity of child-directed activities to serve a monitoring role, but only steps in to interact when there is a problem to address; in this case, less positive and fewer verbal teacher interactions may simply be a function of a restricted range of opportunities. Alternatively, children may have to seek out or be more intentional in initiating teacher interactions during child-centered activities, as opposed to more teacher-structured activities wherein teacher interactions are often embedded in the activity itself (such as the teacher leading morning calendar in large group). These possible explanations may be a guide for future research; from a teacher practice perspective, current findings suggest that it might take a greater, more explicit effort by the teacher to get involved with children during more child-centered activities (Mashburn et al., 2008). It is possible that teachers would need to be more intentional about incorporating opportunities for children to engage with teachers in activity settings where less communication occurs (Justice, 2004). Following previous research trends, it might be beneficial for teachers to regulate their role and language use with children by activity settings (Kontos, 1999).
Peer interactions
Findings from the three positive peer dimensions (i.e., sociability, assertiveness, and communication) suggest that children consistently displayed higher prosocial peer behaviors in all settings except for large group and occasionally routines/transitions. Current findings add to previous research trends that show fewer social behaviors occurring when the teacher is involved and the setting is highly structured by an adult (Huston-Stein, Friedrich-Cofer, & Susman, 1977; Kontos & Wilcox-Herzog, 1997) and that children have more positive peer interactions and are more expressive in free play activities (Goncu & Weber, 2000; Innocenti et al., 1986; Montie et al., 2006). Though on the surface this pattern may seem intuitive, these findings have implications for what teachers do to support children's learning. It is possible that children have less of an opportunity or feel less comfortable engaging, conversing, and positively asserting themselves with their peers in settings that are primarily teacher-directed. From a social-developmental perspective, children of preschool age are just starting to understand and expand ideas when interacting with their peers, and perhaps this developmental stage, in addition to opportunities embedded in the activity setting, contributes to these observed trends (Rosenblatt & Howes, 1995). Teachers may be able to be more intentional about incorporating interactions that allow children to be more expressive with their peers during times that are typically structured or directed by an adult, such as "Turn, Pair, Share" activities. Current findings do not diminish the importance of large group settings, but provide documentation that positive peer interactions are typically lower during these times, suggesting that teachers may want to purposefully facilitate these types of interactions during teacher-structured settings.
Task orientation
Two important task-related behaviors, engagement and self-reliance, were observed. First, the Engagement within Tasks dimension examines children's ability to remain actively on-task and sustain attention to assigned tasks (Downer et al., 2010), whereas previous research utilized teacher reports of engagement, or dichotomously coded on-task/off-task behavior (Rimm-Kaufman et al., 2005). Current findings suggest that children were observed with lower task-oriented behaviors in settings that were more structured by the teacher, such as large group and routines/transition. In teacher-structured tasks, the teacher typically chooses the activity for all children and therefore the difficulty level embedded within; it is possible that some children would be less excited about this work compared to child-directed activities. Ruff and colleagues (1998) suggest that children's attention in particular contexts vary based on the demands of the task and the child's individual interest in meeting those demands. With this in mind, perhaps in situations where the task may be less defined (like in routines/transitions), the demand on attention regulation is high (such as in large group), or the activity may be less compelling, the child is likely to be less engaged than during activities like recess. Current findings also suggest that during these settings an adult is typically initiating and directing the activity, which might prompt teachers to consider ways to facilitate more active, intense engagement when leading these more structured activities. For example, during a read-aloud, the teacher may be able to incorporate question and answer moments that allow the teacher to follow the lead of the children's thoughts and ideas, engaging them further in the activity.
Second, children were observed displaying more self-reliant task behaviors in all activities except large group and routines/transitions (where there is more teacher direction). Similar trends were observed from the Peer Assertiveness dimension, suggesting that children who have the ability to positively initiate and lead in peer interactions also have these higher-order initiation skills to persist with tasks in the classroom (Downer et al., 2010). Current findings add to previous research suggesting that children exhibited less independence with tasks when in highly teacher structured activities (Huston-Stein et al., 1977), and less persistence in activities where interest and motivation waned compared to when children took a greater pleasure in learning (Gmitrova & Gmitrov, 2003). Creating opportunities for children to be actively engaged in the classroom is important for early learning (Gutman & Sulzby, 2000). Towards this, there may be ways for teachers to be more intentional in creating novel learning opportunities that help children initiate and be more independent within more structured settings.
Conflict interactions
Observed conflict was more frequent during recess and routines/transitions, even though conflict interactions had relatively low frequencies across settings. This finding extends previous research suggesting the frequency of aggression or conflict is highest during recess (Craig, Pepler, & Atlas, 2000) or free play settings (Chen, Fein, Killen & Tam, 2001; Ostrov & Keating, 2004). On average, children tended to be less engaged, display fewer self-reliant behaviors, and exhibit higher conflict during routines and transitions than in more child-directed activities. Young children are learning to follow rules and regulate emotions that relate to how they handle classroom situations (Elias & Berk, 2002), and it is possible that, in less structured settings, tension may spill over to conflict. More tension may occur in these child-directed activities compared to large group, because children have the opportunity for more creative play and peer involvement that can lead to disagreements or negativity. Yet, it is important to note that conflict is a natural and important part of development (for example, when children negotiate turn-taking or sharing resources), and it is possible that the low levels noted in this study may reflect normative developmental process. Future research should attempt to untangle these possible explanations to determine causality.
Current findings suggest that, even though a teacher was initiating or directing the activity during routines/transitions, they were not present a majority of the time. In routines/transition settings, children might not always know what to do (i.e., lower engagement scores) and therefore end up in more tense interactions. This setting is a natural part of the early childhood classroom, and these results provide information for teachers to be more knowledgeable and reflective in possibly providing more proactive management of children's behavior and classroom expectations (Pianta et al., 2008). Understanding when conflict tends to happen and under what circumstances (i.e., teacher presence or directed) may help teachers facilitate more positive and potentially meaningful classroom interactions, or make the most of these naturally tense moments to help children learn perspective-taking, sharing, and emotion regulation.
Gender Differences within Activity Settings
Discussion thus far has provided a descriptive examination of children's and teachers' behaviors across activity settings. In addition to this cross-setting focus, an investigation of gender differences within these settings by inCLASS dimension was completed. In most settings, there were no significant gender differences suggesting that girls and boys have mostly similar behavior, adding to previous research trends that were limited by the breadth of settings examined (Anderson et al., 2003; Carpenter & Huston-Stein, 1980; Farran & Son-Yarbrough, 2001). Only in small group and meals were gender differences observed, and these were mainly in conflict. Boys tended to be higher than girls in their Peer Conflict behaviors, which generally follows previous research (Holmes-Lonergan, 2003; Ostrov & Keating, 2004). In small group, boys also tended to be higher in Peer Communication than girls, but girls were scored higher in Positive Engagement with the Teacher than boys. These findings generally support the argument that young children's gender and the early education social ecology need to be considered when trying to understand children's classroom interactions (Fabes, Hanish, & Martin, 2007).
Practical Implications
Given the consistent patterns noted above, observations of children's classroom behaviors paired with activity settings have implications for working with individual children, as well as how teachers make choices about setting up the classroom for all children. Within the busy, active environment of a preschool classroom, patterns of an individual child's behavior across and within activity settings may be difficult to see without the use of a systematic, formal observation system. Yet, there are clear benefits to being able to identify children's positive interactions that then offer context-specific targets for individualized interventions. For example, a girl may be shy and rarely raise her hand to ask questions or share her ideas during a book reading in a large group (considered lower Engagement within Tasks and Self-Reliance on the inCLASS), but during free choice she sits in the book area with a peer and is actively engaged in pointing to pictures in the book and finding all of the letter B's. This scenario highlights how observational data across activity settings could help teachers understand that a child interacts with her surroundings very differently depending on the context, and therefore may have more positive behavior under one set of conditions that, with support, might be transferred to other more challenging conditions.
The teacher is often a major contributor in the early childhood settings by setting up, leading, or being present during the classroom activities. Current findings could be used by teachers to be more intentional in practice, and purposeful in their role during these learning opportunities and classroom interactions. These findings can be meaningful to teachers who may not have previously been knowledgeable of various types of children's interactions and how activity settings affect classroom behavior. These patterns help provide evidence and documentation for teachers to be more aware of the interactions occurring in their classroom and the choices they make within these settings in order to promote certain behaviors across all children. The current study is not meant to be a prescription for how to use classroom settings; instead applications of these findings may be useful for teachers to be more proactive and intentional in setting up the classroom environment. Possible next steps might be to observe whether having opportunities to engage in these positive behaviors and interactions are associated with better skill development in children. Overall, it is important to observe children developing these skills and behaviors, and it is possible that structuring the environment through the intentional use of certain activity settings might help foster development.
Limitations
This study examines children's positive interactions across activity settings using an observational system focused on the developmentally salient interactions children have within early childhood classrooms. Findings provide initial support for the hypothesis that children's behavior varies by activity setting, however, it is important to acknowledge several limitations. First and foremost, as covered in the introduction, children's interactions with their pre-kindergarten environment are transactional in nature. Therefore, the current correlational findings do not address the directionality of the link between settings and child behavior. The two are clearly connected in interesting patterns, but further mixed methods longitudinal work is needed to examine whether certain contexts lead to or elicit specific behaviors or if children with particular behaviors select themselves into specific settings. Future work could help to establish the conditions under which these classroom interactions occur in different settings, and at what point these interactions serve a facilitative role in children's academic and socio-emotional development.
For the current study, the classroom setting and teacher behavior codes are from a series of alternating cycles or occasions during two mornings of observations. Although using observation approaches allows for the examination of how children calibrate their behavior by responding to situational demands in classroom interactions (Volpe et al., 2005), it does not solely capture the child's experience in that classroom. For example, information about children's personal interest and motivations were not captured in the current study, and should be considered in future research (Gump, 1975). It is possible that some children were observed to be less engaged in some settings due to the topic being taught and not necessarily about the setting itself, and therefore data about content and nature of task would be helpful. Additional information that more directly looks at the demands (i.e., cognitively and social-emotionally) placed on the child by examining how teachers manage the settings is also needed (see Conner, Morrison, & Slominski, 2006). The current study utilized two basic teacher behavior variables that provided a snapshot of the role of teacher involvement across the activity settings, but future mixed method research should consider pairing more expansive teacher or classroom-focused data, such as the Classroom Assessment Scoring System (CLASS) (Pianta, La Paro & Hamre, 2008), with the current child-focused inCLASS observations. Future studies using such data could examine if teachers' specific behaviors look different across activity setting in ways that may contribute to children's classroom interactions and developmental outcomes.
Finally, the study sample was limited in cultural and socioeconomic diversity at the child/family level, as well as in the types of pre-kindergarten programs represented. The experiences of this largely white, middle to upper class group of children may not be typical of other more diverse samples, and the activity settings available in these private preschools might look quite different in a set of family daycare or publicly funded pre-kindergarten settings. The link between children's interactions and activity settings requires further research in a set of early childhood settings that are more representative of those available to the full spectrum of children and families in the United States.
Conclusion
This study provided a picture of children's classroom interactions with teachers, peers and tasks across activity settings. Studies examining the role of the environment are limited when information about children's classroom-based interactions and elements of the classroom setting are aggregated to higher levels, potentially missing relevant findings that are at a basic, moment-to-moment level. As the early childhood education field works toward an improved understanding of how children learn in preschool settings, the current study indicates a need to broaden the scope of this work to include more ecological measures of children's behavior and interactions. Findings from the current study suggest that there are differences in children's behaviors at a micro level within classrooms and activity settings, underscoring the importance of taking into account the classroom activity setting when attempting to understand children's development.
Acknowledgments
This study was supported by the National Institute of Child Health and Human Development and the Interagency Consortium on Measurement of School Readiness: R01 HD051498. The opinions expressed are those of the authors and do not represent views of the funding agencies. We extend our gratitude to the teachers, parents, and children who invited us into their classrooms. Special thanks to Claire Ponitz for her assistance in the early conceptualization and later reviews of this paper.
References
Anderson GT, Hilton SC, Wouden-Miller M. Gender comparison of the cooperation of 4-year-old children in classroom activity centers. Early Education & Development. 2003;14(4):441–452.
American Educational Research Association [AERA], American Psychological Association, & National Council on Measurement in Education. Standards for educational and psychological testing. Washington DC: American Educational Research Association; 1999.
Barker RG. Ecological psychology: Concepts and methods for studying the environment of human behavior. Stanford, CA: Stanford University Press; 1968.
Bierman KL, Torres MM, Domitrovich CE, Welsh JA, Gest SD. Behavioral and cognitive readiness for school: Cross-domain associations for children attending Head Start. Social Development. 2009;18:305–323.
Blair C. School readiness as propensity for engagement: Integrating cognition and emotion in a neurobiological conceptualization of child functioning at school entry. American Psychologist. 2002;57:111–127.[PubMed]
Bronfenbrenner U. Contexts of child rearing: Problems and prospects. American Psychologist. 1979;34:844–850.
Bronfenbrenner U, Morris PA. The Bioecological model of human development. In: Lerner RM, Damon W, editors. Handbook of child psychology. Hoboken, NJ: John Wiley & Sons, Inc; 2006. pp. 793–828.
Buhs ES, Ladd GW, Herald SL. Peer exclusion and victimization: Processes that mediate the relation between peer group rejection and children's classroom engagement and achievement? Journal of Educational Psychology. 2006;98:1–13.
Bulotsky-Shearer RJ, Fantuzzo JW, McDermott PA. An investigation of classroom situational dimensions of emotional and behavioral adjustment and cognitive and social outcomes for Head Start children. Developmental Psychology. 2008;44:139–154.[PubMed]
Burchinal MR, Peisner-Feinberg E, Pianta RC, Howes C. Development of academic skills from preschool through second grade: Family and classroom predictors of developmental trajectories. Journal of School Psychology. 2002;40:415–436.
Carpenter CJ, Huston-Stein A. Activity structure and sex-typed behavior in preschool children. Child Development. 1980;51:862–872.
Carta JJ, Greenwood CR. Eco-behavioral assessment: A methodology for expanding the evaluation of early intervention programs. Topics in Early Childhood Special Education. 1985;5:88–104.
Chen DW, Fein GG, Tam HK. Peer conflicts of preschool children: Issues, resolution, incidence, and age-related patterns. Early Education and Development. 2001;12:523–544.
Cicchetti DV, Sparrow SA. Developing criteria for establishing interrater reliability of specific items: Application to assessment of adaptive behavior. American Journal of Mental Deficiencies. 1981;86:127–137.[PubMed]
Clifford RM, Barbarin O, Chang F, Early DM, Bryant D, Howes C, Burchinal M, Pianta R. What is pre-kindergarten? Characteristics of public pre-kindergarten programs. Applied Developmental Science. 2005;9(3):126–143.
Cohen DK, Raudenbush SW, Loewenberg-Ball D. Resources, instruction, and research. Educational Evaluation and Policy Analysis. 2003;25:119–142.
Conner CM, Morrison FJ, Slominski L. Preschool instruction and children's emergent literacy growth. Journal of Educational Psychology. 2006;98(4):665–689.
Coplan RJ, Prakash K. Spending time with teacher: Characteristics of preschoolers who frequently elicit versus initiate interactions with teachers. Early Childhood Research Quarterly. 2003;18:143–158.
Craig WM, Pepler D, Atlas R. Observations of bullying in the playground and in the classroom. School Psychology International. 2000;21(1):22–36.
Dickinson DK. Large-group and free-play times. In: Dickinson DK, Tabors PO, editors. Beginning literacy with language. Baltimore: Paul H. Brooks Publishing Co; 2001. pp. 223–255.
Dobbs J, Arnold DH. Relationship between preschool teachers' report of children's behavior and their behavior towards those children. School Psychology Quarterly. 2009;24(2):95–105.[PMC free article][PubMed]
Downer JT, Booren LM, Lima OK, Luckner AE, Pianta RC. The Individualized Classroom Assessment Scoring System (inCLASS): Preliminary reliability and validity of a system for observing preschoolers' competence in classroom interaction. Early Childhood Research Quarterly. 2010;25:1–16.[PMC free article][PubMed]
Duncan GJ, Claessens A, Huston AC, Pagani LS, Engel M, Sexton H, Dowsett CJ, Magnuson K, Klebanov P, Feinstein L, Brooks-Gunn J, Duckworth J, Japel C. School readiness and later achievement. Developmental Psychology. 2007;43:1426–1446.[PubMed]
Early DM, Iruka IU, Ritchie S, Barbarin OA, Winn DC, Crawford GM, Frome PM, Clifford RM, Burchinal M, Howes C, Bryant DM, Pianta RC. How do pre-kindergartners spend their time? Gender, ethnicity, and income as predictors of experiences in pre-kindergarten classrooms. Early Childhood Research Quarterly. 2010;25(2):177–193.
Elias CL, Berk LE. Self-regulation in your children: Is there a role for sociodramatic play? Early Childhood Research Quarterly. 2002;17:216–238.
Fabes RA, Hanish LD, Martin CL. Peer interactions and the gendered social ecology of preparing young children for school. Early Childhood Services. 2007;1(3):205–218.
Fantuzzo J, Perry MA, McDermott P. Preschool approaches to learning and their relationship to other relevant classroom competencies for low-income children. School Psychology Quarterly. 2004;19:212–230.
Farran DC, Son-Yarbrough Title I funded preschools as a developmental context for chidlren's play and verbal behaviors. Early Childhood Research Quarterly. 2001;16:245–262.
Gmitrova V, Gmitrov J. The impact of teacher-directed and child-directed pretend play on cognitive competence in kindergarten children. Early Childhood Education Journal. 2003;30(4):241–246.
Goncu A, Weber E. Preschoolers' classroom activities and interactions with peers and teachers. Early Education & Development. 2000;11(1):93–107.
Gump PV. Final Report. Washington, DC: U.S. Department of Education, Bureau of Research; 1967. The classroom behavior setting: Its nature and relation to student behavior. (ERIC Document Reprint Service No. ED 015 515)
Gump PV. Ecological psychology and children. In: Hetherington EM, Hagen JW, Kron R, Stein AH, editors. Review of child development research. Chicago: The University of Chicago Press; 1975. pp. 75–126.
Gutman LM, Sulzby E. The role of autonomy-support versus control in the emergent writing behaviors of African-American kindergarten children. Reading Research & Instruction. 2000;39(2):170–183.
Hamre BK, Pianta RC. Early teacher-child relationship and the trajectory of children's school outcomes through eighth grade. Child Development. 2001;72:625–638.[PubMed]
Harper LV, McCluskey KS. Teacher-child and child-child interactions in inclusive preschool settings: Do adults inhibit peer interactions? Early Childhood Research Quarterly. 2003;18:163–184.
Holmes-Lonergan HA. Preschool children's collaborative problem-solving interactions: The role of gender, pair type, and task. Sex Roles. 2003;48(11/12):505–517.
Howe C, McWilliam D. Peer argument in educational settings: Variations due to socioeconomic status, gender, and activity context. Journal of Language and Social Psychology. 2001;20(1/2):61–80.
Huston-Stein A, Friedrich-Cofer L, Susman EJ. The relation of classroom structure to social behavior, imaginative play, and self-regulation of economically disadvantaged children. Child Development. 1977;48:908–916.
Innocenti MS, Stowitschek JJ, Rule S, Killoran J, Striefel S, Boswell C. A naturalistic study of the relation between preschool setting events and peer interaction in four activity contexts. Early Childhood Research Quarterly. 1986;1:141–153.
Justice L. Creating language-rich preschool classroom environments. Teaching Exceptional Children. 2004;37:36–44.
Konig A. Observed classroom interaction processes between pre-school teachers and children: Results of a video study during free-play time in German pre-schools. Educational & Child Psychology. 2009;26(2):53–65.
Kontos S, Keyes L. An ecobehavioral analysis of early childhood classrooms. Early Childhood Research Quarterly. 1999;14:35–50.
Kontos S, Burchinal M, Howes C, Wisseh S, Galinsky E. An eco-behavioral approach to examining the contextual effects of early childhood classrooms. Early Childhood Research Quarterly. 2002;17:239–258.
Kontos S. Preschool teachers' talk, roles, and activity settings during free play. Early Childhood Research Quarterly. 1999;14(3):363–382.
Kontos S, Wilcox-Herzog A. Influences on children's competence in early childhood classrooms. Early Childhood Research Quarterly. 1997;12:247–262.
Konold TR, Pianta RC. Empirically-derived, person-oriented patterns of school readiness in typically-developing children: Description and prediction to first-grade achievement. Applied Developmental Science. 2005;9:174–187.
Lara-Cinisomo S, Fuligni AS, Ritchie S, Howes C, Karoly L. Getting ready for school: An examination of early childhood educators' belief systems. Early Childhood Education Journal. 2008;35:343–349.
Ladd GW. Children's peer relationships and social competence: A century of progress. New Haven, CT: Yale University Press; 2005.
Mashburn AJ, Pianta RC, Hamre BK, Downer JT, Barbarin O, Bryant D, Burchinal M, Early D, Howes C. Measures of classroom quality in prekindergarten and children's development of academic, language, and social skills. Child Development. 2008;79:732–749.[PubMed]
McClelland MM, Morrison FJ, Holmes DL. Children at risk for early academic problems: The role of learning-related social skills. Early Childhood Research Quarterly. 2000;15:307–329.
McWilliam RA, Scarborough AA, Kim H. Adult interactions and child engagement. Early Education & Development. 2003;14(1):7–27.
Meisels SJ, Atkins-Burnett S. Evaluating early childhood assessments: A differential analysis. In: McCartney K, Phillips D, editors. The Blackwell handbook of early childhood development. Oxford: Blackwell Publishing; 2006. pp. 533–549.
Montie JE, Xiang Z, Schweinhart LJ. Preschool experience in 10 countries: Cognitive and language performance at age 7. Early Childhood Research Quarterly. 2006;21:313–331.
Neisworth T, Bagnato SJ. The mismeasure of young children. Infants & Young Children. 2004;17:198–213.
Noel AM, Sable J, Chen CS. Public elementary and secondary school student enrollment and staff counts from the common core of data: School year 2007–08. Washington, DC: National Center for Education Statistics; 2009.
O'Connor E, McCartney K. Teacher-child relationships and achievement as part of an ecological model of development. American Education Research Journal. 2007;44:340–369.
Such a simple term but when using this term in early childhood settings it can become a little confusing as to what is really expected when we talk about 'observing children'. Observing is obviously the act of looking and watching but in our profession we need to take that one step further. It also encompasses the skills of listening, questioning, reflecting and documenting what we actually see and then interpreting succinctly in order to identify and support a child's strengths, needs, interests and development.
When writing observations keep in mind that you cannot know exactly what a child is feeling so you should be writing or noting what you see and hear…not how you think he/she is feeling. Be factual, it might help to remember the two words below as I go into further detail about observation styles.
Objective — writing what we see and hear. Subjective — writing what you think the child feels

You also want to be aware of 'setting the environment' because you know you want to do an observation on a child. To be able to observe the authentic child and associated play you need to be unobtrusive and observing the play in your usual setting. As adults we feel uncomfortable when we know someone is following us around with a clipboard and pen as they observe….consider that a child will feel the same way!As well as gathering information on a child's development you are also aiming to gather information on a child's emerging skills
Let's break that down….or in training speak 'unpack it'!
You are basically gathering information about a child to inform your programming and ensure you are planning appropriate activities, strategies and experiences for each individual child and also the whole group. You are aiming to foster their development.
First watch and observe….look for significant moments…not just moments to meet this week's observation quota – that is a waste of your time and does nothing to extend a child's learning journey. It needs to be authentic to be useful as an observation.
Listen to what the children and other staff are saying
Record what you see and what you hear using the format/template/style that suits the situation, the time you have to observe,  but also your particular skill and comfort level.
Incorporate visual or audio tools into your observation if you are comfortable doing so and it helps to build your overall picture or story.
Briefly reflect and interpret what you have just observed…identify strengths, interests, needs, developmental skill, emotional state, potential. Recall and reflect upon the EYLF learning outcomes as well as the primary developmental areas of social, emotional, physical, cognitive, language and creative (don't worry, more about this below!)
Use your reflection/evaluation summary to now plan your experiences, environments and focus activities. Some might call this 'Forward Planning'
So we OBSERVE, RECORD, REFLECT & INTERPRET then use all of that to PLAN our PROGRAM.
When you add an activity/environment or experience to your plan that has evolved from an observation you make a note of that in your programming(more on how to do that below) and you have then 'linked'. Told you it was simple!
But now I hear you saying "But what about the EYLF outcomes?" It tells us we need to do observations in a certain way and I don't understand it, it's too much work". Going to stop you right there and gently prod you toward re reading your Early Years Learning Framework because there is a lot of incorrect information out there regarding what you need to do to meet the new requirements.
I'm going to bust a few myths for you right now….although as always keep in mind that this blog is purely my own interpretation and reflection based on my own reading of the document and service practice.
Before you try to answer that keep in mind that you don't need to just settle on using one format….remember you can combine a few different methods or you can just stick with one until you are confident with that approach. It really is about your 'system' as a whole. Yes I know I keep saying that in all these programming posts but that should be telling you something! If you do not approach your observing and programming systematically it becomes easy to miss parts of the cycle or certain children and that is when it becomes easy to get overwhelmed or frustrated.
Let's explore a few of the more popular formats…there are more but these are the ones I am most familiar with and have used over the years so that's what you are getting! The key is to try a variety of styles to build a picture of the child, a group of children and whole of service to inform and support your planning.
Keep in mind that no matter the style you use you should always include the following information if possible…
Name of child
Age
Time of observation
Setting of observation
Date of Observation
Anecdotal records are similar to running records except they are written in the past tense. Anecdotes describe what happened in a factual, objective manner, telling how it happened, when and where it happened, and what was said and done. You can therefore write these observations up after the event occurred making them a little more user friendly for busy educators. You might like to jot a few notes in your diary or on a sticky note or two to give you little prompts for later when you are able to sit down to write up the observation.
I use this type of observation when I want to record a little more detail about a significant learning event. I usually also like to include a few photos to add to the text. When using this format I try to use the language and context of the EYLF so that correlations can easily be made to the outcomes. In previous training (or the 'olden days' ) we were taught to focus more on the developmental learning or achievments taking place, I still focus on this but I also incorporate elements of the EYLF and identifying current strengths. It's really not hard, just a shift in thinking and language.
This is the format I currently use for recording anecdotal records for individual children. I file them in the children's computer folder portfolio.
Learning Stories
First let me say I am not a huge fan of learning stories but I know many are and they do play a valuable role in many programs so I thought I should give them a mention.
This is pretty self explanatory but don't underestimate the power of photos or audio snippets of the child's voice!
Many people now like to compile a collage of photos relating to a specific experience or activity accompanied by short blocks of text further detailing the learning or journey taking place. You can make them simple with few words therefore allowing the photos to tell the story or you can add more text if you see the need to tell the story in more detail.This format also makes it easy to include 'the children's voice' which immediately sets the context of learning. I like this method because I can take photos of significant moments as we play, no need for notes and clipboards!
Here's a few examples of how I do mine…..obviously I write text in the blank spaces. Sometimes I fill a space, sometimes I just add some brief dot points and let the photos tell the story.
I know many people also use apps on their phones or programs on their computer which can be very helpful for those who embrace these methods and find they save time. I prefer to make my own templates and use photo programs such as picmonkey.com to put together the collages. You can just insert some photos into a word document though, add a little text and it will be just as useful!
Another thing I love about using photos is that they are an instant record but I don't need to put them together into a document until I have the time to do so. The photos act as a prompt and sometimes I don't get to them until a week or so later but I immediately remember the significant moment I wanted to record when I see the photos.
Visual Displays of Work
I like to send the majority of the children's craft and artwork home as it is important to them and to me that they share their hard work and tell the story of their learning to their family at the time it happens. But with their permission and involvement I often put together some visual displays so they can share their journey with friends and family within the care environment. Parents really enjoy spending some time looking through the displays and making the connections to learning.
Artwork samples with the children's voice included
Just because I send the majority of artwork home doesn't mean I don't keep a record of it and the process and learning that was involved! Again, photos are a valuable resource here and I often compile photos of the children's work and accompany with some very brief anecdotal text of what was happening or even just the children's voices which goes toward displaying the children's progress as they travel the path of their learning journey.
The samples might be individual or group projects. I then save these in the children's computer portfolio folder as well as my own children's files.
Daily journals or reflections
You can use your daily reflections and journal jottings to provide observational evidence. You don't need reams of paper to tell a story. I often refer to my 'our day' forms in my forward planning and it comes together over time to tell a story.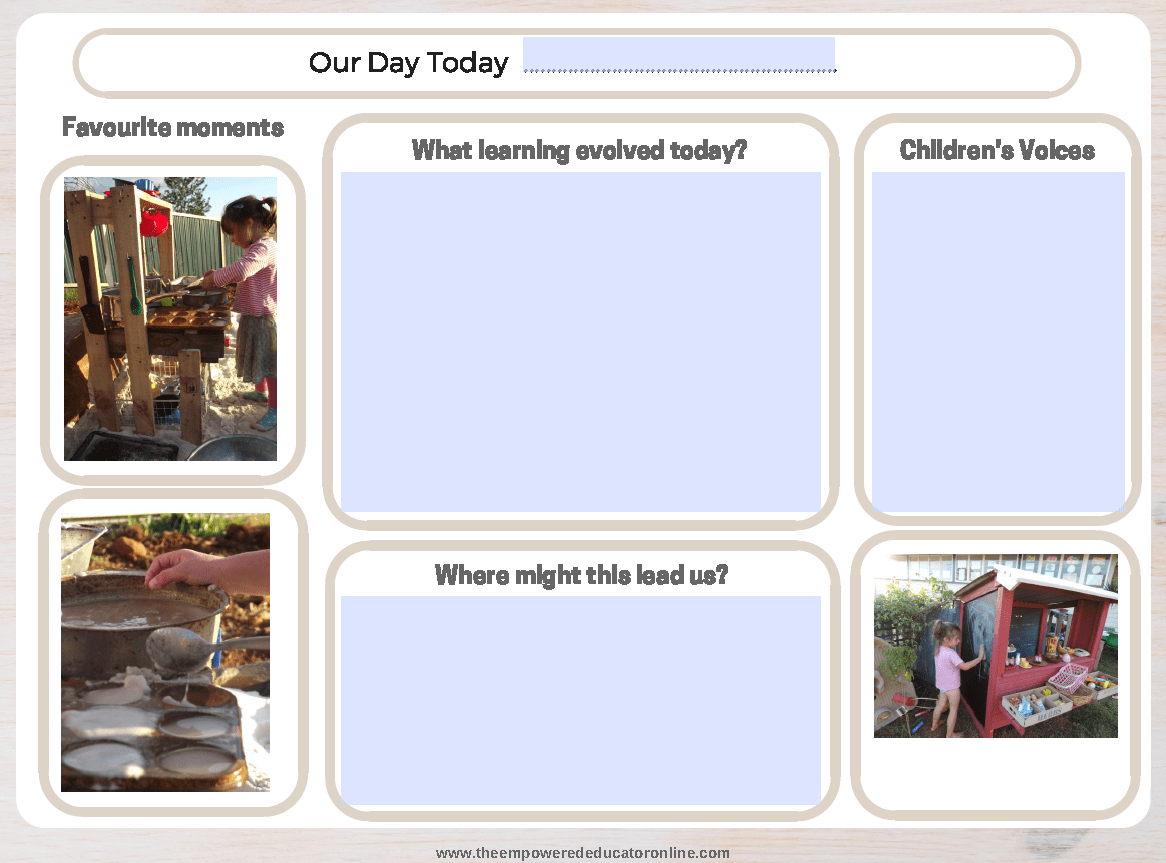 I also use the weekly reflections on my program which I complete at the end of each week (obviously) 😉 As I said in my previous post, there is no reason why one document or form can't meet a number of goals and therefore make your job a little easier.
Everyone will reflect in different ways and it would take to long to go into detail here but just know that you can use these reflections to form part of your evaluation and ongoing planning. I'll be following up with a post about reflective practice soon.
If you are looking for some simple templates like this to use you will find the editable PDF versions of the ones above and much more in my Essential Templates Toolkit for educators HERE.
Checklists
Developmental checklists are often seen as 'old school' but they can still be incorporated into today's programming guided by the EYLF and NQS. I think it always helps to draw up your own checklists based on your knowledge of developmental milestones and age appropriate behaviour (I really hope they are still teaching the milestones to students today!)
This way you can include the milestones you want to check or observe and also include a space for a brief comment…this allows you to put the abilities or deficits of learning into context. You would also add the date each particular milestone or goal was met.
Checklists aren't as popular as an observation tool as they used to be but I still believe they have their place and can easily be modified to embrace the elements of the EYLF.  There is no reason why you can't use checklists to identify both strengths and weaknesses and use them to form part of your evaluation of a child's learning.
Learning stories involve educators detailing the general learning of the child which is occurring in an observation but it is presented in a more creative way, often accompanied my photos to provide further evidence of a child's learning. They are usually also a little easier for parents to understand as they aren't too technical but they do take more time to read and time poor parents often prefer more visual examples of their child's progress (in my experience).
When writing a learning story you don't need to worry about using subjective terms or including your own interpretations when writing about the child's actions which is why many educators like them.You can write in a storyteller (narrative) format to capture the meaningful elements you are observing within the learning process before you.
Learning stories usually focus on what the children can do rather than what they can't whereas the running record and anecdotal records often focus on identifying gaps in development (which they actually don't need to, it has just been the traditional way in years past). The idea is that you are recognising and describing the learning you see and writing about it in a story type format.
If you want more information about how to write learning stories this article explains the process in an easy to understand format. I will just say that if you choose to use learning stories then you should be aware of not spending too much time writing a lovely story but at the end not really have anything concrete to work with. I have seen some wonderful stories but struggle to understand the reason behind them or how they can be used to further support the ongoing journey of learning for the child. Just something to consider as they can be very time consuming. Some people love to do them though – it's all about finding your own style!

Photos or audio of learning taking place
My advice if using checklists though is to not just rely on ticking and crossing off milestones…you want to add some details so that you get a clear picture of the learning or struggle that is taking place. Just something brief, a line or two. This is how you can then use checklists to document the progress of a child's journey and help inform your future planning and therefore incorporate elements of the EYLF at the same time.
Reflections/Interpretation – What Does It Mean?
This is a question I have been asked a lot in the last few weeks. This blog post is already too long (again!) but I am going to try and explain quickly as it really shouldn't be a difficult process for a trained educator. Perhaps it will help though to put it into simple terms.
You've written an observation and gee it's good….but what does it mean and what purpose does it offer? To ensure you didn't just waste your time you now need to reflect upon and evaluate your observation. Now you get to use your ninja early childhood skills (hmm, bit tired sorry) but you do!
Read over the observation, look at the photos, try to recall the moment as often you will not be completing your evaluation at the same time…well I rarely do as I like to break up things into blocks, you might be different. Either way, now you want to write down what is taking place.
Consider asking yourself what is happening, why, when and how? Evaluating children's observations allows us to identify the children's strengths, interests and opportunities for further development. Interpreting an observation is not just writing a summary of a child's development, you are interpreting developmental skills, capabilities, potential, emerging interests and preferences. This is how you will then be able to plan future appropriate experiences, activities and environments.
When interpreting and evaluating a child's learning and capabilities consider not only talking about the child's development in the traditional main areas (i.e social, emotional, physical, cognitive etc) that were demonstrated but also using the Early Years Learning Framework. I believe both can play an important role in today's evaluations and provide a more holistic picture of the child.
So you understand how to talk about the developmental learning taking place but not how to incorporate the framework principles as well? You could list the outcome numbers if you want, I know that many do but often a child's demonstrated learning can overlap into a number of areas so I find it easier to just 'use your words' (yep, a little educator humour there…stick with me).
What I mean by that is finding the outcomes you feel correspond to the learning that you observed and write about it in that context without having to actually list the numbers and make it to formal.
For example "Ruby showed a willingness to
persist with the task
of drawing up the coloured water into the baster even though it
took quite a few tries and she found this particular skill difficult
" She clearly demonstrated that she is beginning to "
manipulate equipment and manage tools with increasing competence and skill"

Did you recognise the two framework outcomes the above phrases refer to? Let me know in the comments below!  So you look at the outcomes and decide what might be important to note in your interpretation, then include some of that wording. I also try to include the language in my reflections and parent communication forms too if possible.
Interpreting just the important or significant events within an observation does take a little practice and at first you might find you write a fair bit so that it is clear in your mind and you might try to include everything you think is important. Over time though you will come to recognise the significant learning as you are observing instead of after and only need to add a short summary to outline the child's learning and abilities.
It is important to remember that you are not rewriting the observation to tell a story but are just trying to highlight the area of skill or need that the child has demonstrated. You need to interpret then summarise the skills, development and behaviours which are included in the observations you have taken. There should be a direct link…not flowery wording of what you think *might* be important to add. This will then form a valuable part of  your programming cycle or system and help your future planning for the child or group.
We then move to the final step in the observation/planning cycle and here you will tie it all together!
When you have evaluated your observation and confirmed where the child's progress is, you can then think of their next steps. You don't need to feel you have to write reams of next steps; if it is a short observation you may just add 1 activity or experience in your forward planning. If it was a detailed observation you might add a number of activities to do over a few weeks.
So let's bring it home (I am meant to be bathing children and cooking dinner right now although even this is more interesting than that I admit).
The final frontier…..forward planning and linking this to your programming!
Forward Planning &  Linking Effectively.
I know a lot of people struggle with this part but I actually find it the easiest part of the cycle so hopefully I can help. With your interpretation and summary complete, you can now  think about which skills, capabilities, potential, interests and preferences you wish to focus your attention on for the sake of program planning. You can also look at a deeper level, linking the learning the child has completed in the documented observation to the  EYLF which should be guiding your program planning.
When using your interpretations and summaries to devise experiences, activities and environments which will foster the child's development, be sure to look closely at the skills the child is already showing and then plan for an activity, experience or environment which would further develop the demonstrated skills. Make sure you are offering different experiences in your forward planning, not just a extended version of the activity you observed previously. You need to plan from your interpretation and summary not just the observation.
This will ensure that the child, the group and you as an educator are not getting bored, that the experiences you continue to provide are varied and foster different skills. Planning is more than just the next activity on a program. Your future planning should be looking at resources, materials, people, routines, expectations and strategies .Try to think outside the box a little and also how you could incorporate the activities into group learning experiences and not just individual focus activities.
When you have listed the activities you want to plan, you then need to find a way to make sure you are linking that activity back to your original observation so that you can come back and reflect upon how the planned activity went. Did it meet expectations, challenge the child etc?
This is where a lot of people use initials, dots, colours, symbols etc as well. Personally they all do my head in so I added an area to my program where I add 'focus children activities' with the corresponding observation date. I then come back to my forward planning form when the activity is completed and write a brief summary of how the experience went and date when it occurred. If I have forgotten when that was I just look back at my 'our day' reflection forms from the week. It's hard to explain so I am going to finish this novel by showing you my observation/forward planning cycle. But I developed this system because it suits my style and works efficiently as a system for me…it might not for you but you might be able to take something away from seeing it in action. If symbols etc work best for you then stick with it!
My Documentation System in Summary
1.Observe & Take Photos
First I observe using similar to one of the following styles……
2. Reflections & Parent Communication
I also use my individual "My Day" communication sheets as well as my group "Our Day" daily reflections record which are emailed to parents at the end of the day and also filed in the children's digital portfolio folders on the computer.
3. Analysis of Learning & Forward Planning
I now use my individual analysis and forward planning record form to begin the process of interpretation, forward planning and evaluation.
You can see on the form that I have listed the above observation styles down the left side so when I come to use the form I just tick which method I used and add the date.
4. Evaluate & Forward Plan
I then add my interpretation or analysis of learning, jot down some future planning ideas and activities and then add a date corresponding to the program I will be adding them to (in the focus children activities box on the fortnightly plan)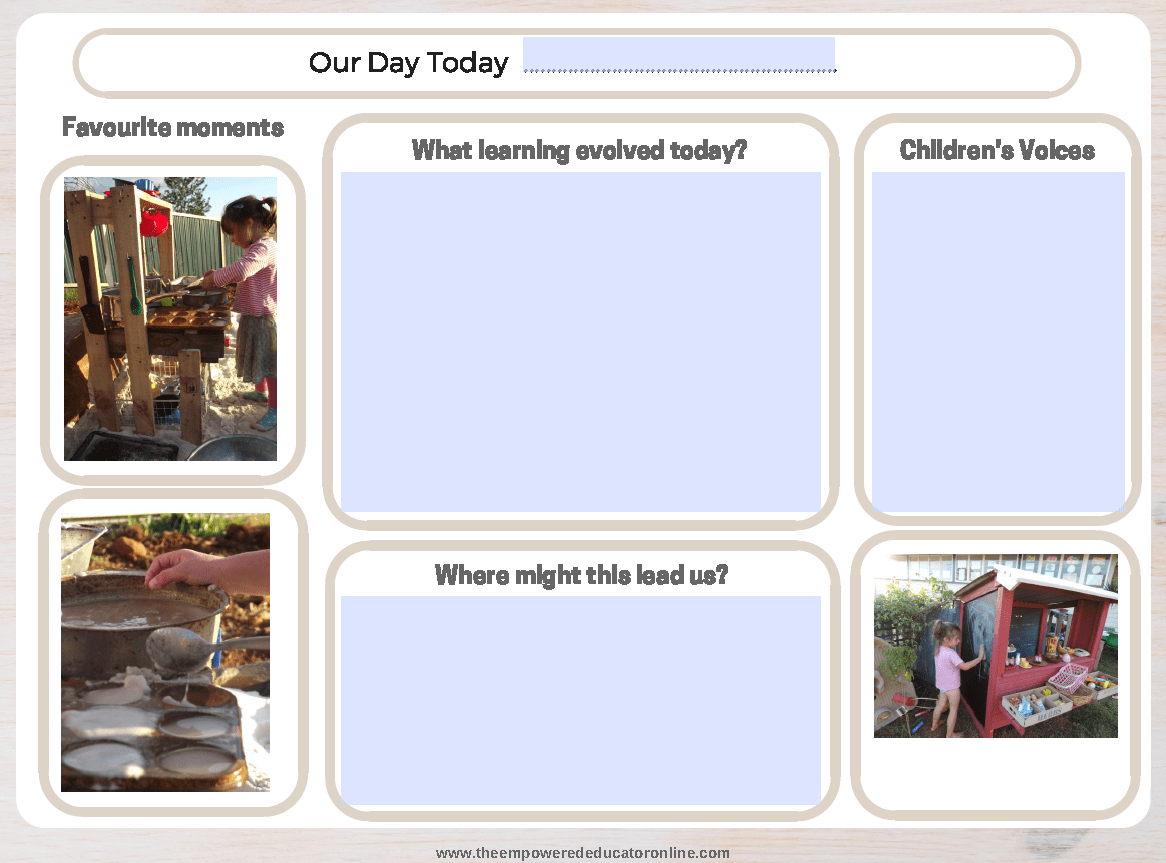 When the activities are completed I come back to this form and write the date activity was observed and a brief evaluation of how the activity proceeded…not a story just a few notes, no need to go overboard, it's really just logging another stepping stone in the child's ongoing journey.
I am always updating and tweaking my weekly programming to suit my needs and the children currently in care (There is no rule that says you have to stick with the one style or template!).
Please keep in mind I am sharing the system that works for me, it might not for you but I do hope there is something here that you might be able to take away that makes your life a little easier when it comes to working out your own planning cycle. There are many more ways that I haven't covered but there is only so much writing a gal can do on her weekend!
Want to download a free print friendly version of this article for further reflection and support?
Click the image below to have a PDF factsheet sent to your inbox for printing!
Finally, when considering your observation and reflection techniques perhaps ask yourself these 2 questions….
1.Am I gathering information on children's learning and development using a range
of methods?
2. How am I using this information to extend and enrich learning for each child?